I have visited the country many times, mainly throughout my youth in the 1970s when my father worked as a diplomat while Burma's military dictatorship was at its cruellest. More recently, I visited at the end of 2014, before the elections introduced the country's very first civilian federal government in 50 years (albeit 25 percent of parliamentary seats were held for the army). As I travelled around Myanmar, about 6 months after the new federal government took office, there was a palpable state of optimism. Some residents say that the country is now the most democratic country in Southeast Asia, although some problems remain and Myanmar's security forces have been recently accused of human rights offenses against Rohingya Muslims.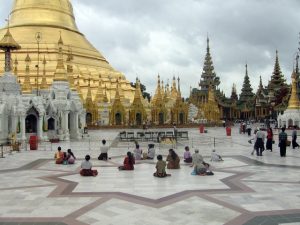 We began our journey in Yangon, Myanmar's former capital and still its biggest city. It's a bewitchingly old-new place of collapsing colonial architecture and a horizon etched with the largest cranes hired for development. We take a walking tour into the historical downtown area with our guide, Joseph, who accompanies us throughout the journey and is marvellously able to integrate the personalities of a caring shepherd, a clear-sighted baby-sitter and a fluent historian. In Yangon, we admire the streets lined with Victorian-era structures – some improved by structural and engineered timber beams, others losing the battle with greenery. Most importantly, we stop to discover the local life, tasting the products of a betel-nut seller and stopping briefly at Merchant Road where lawyers provide lunch break services, having carried their tomes and typewriters with them to the pop-up stalls.
In the late afternoon we visit the magnificent Shwedagon pagoda, a site that dates back 2500 years. Set on a hill in the heart of Yangon, this Buddhist edifice appears ethereally suspended over the city. Its 110m high top is encrusted with diamonds. Through a telescope, you can see the biggest, supposedly 76 carats. For most of our visit, however, I looked on quietly at the local people making flower offerings to astrological animals, at little kids sounding gongs, and at nuns in apricot-coloured bathrobes checking out bibles in side pavillions.
As the schedule hits full speed, there are challenging moments, such as the 5am start to catch a flight to the ancient capital of Bagan on Day 3. Departure from Yangon's domestic airport is remarkably effective and we check out the nation's most stupendous site by 8.30am. In between the 11th and 13th centuries the kings of Burma constructed countless pagodas in the area with great charisma. It's a beautiful location where substantial pagodas stretch across the horizon and myriad little stupas pepper the fields in between. The best method to get around is by bike. We feel part of the landscape, states Joseph, as he takes us on a bike trip to many of the most amazing pagodas – Ananda with its stunning Buddha images; Thatbyinnyu, practically 60m high and offering scenic views from its balconies; and Bupaya, one of the oldest temples in Bagan.
I am shocked that just a few of the pagodas are out of bounds. Last August, a 6.8-magnitude earthquake shook the area and 200 temples were damaged. Yet Joseph informs us that it was a "great" earthquake. For several years, he says, UNESCO chose not to approve Bagan World Heritage status because of the crass advancement that occurred in the 90s. But the most significant hit of the earthquake destabilised those concrete additions and there is now a brand-new spirit of cooperation as UN professionals join Myanmar authorities in the painstaking repair and construction works with frannas that could not damage the undoubtedly endless beauty of the city.
Exactly what this means for visitors is the absence of access to the interiors of some bigger temples, such as Shwegugyi, and a horizon dotted with pagodas under scaffolding which, in this most stunning of nations, takes a kind of halos of filigreed bamboo. Our travel plan was made to also allow a couple free days, among which we can enjoy Bagan in leisure. I had spent a lot of this time biking to remote temples, admiring the archeological museum (filled with 11th-century Buddha images and, oddly, striking mannequins with real hair) and checking out a museum dedicated to thanakha, the bark that is ground into a powder and used as sun screen.
A few days later we roam around thanakha orchards near Myaing. Then the journey moved north to the tourist attractions outside the city of Mandalay (itself unattractive, although the distant sites, such as U Bein's teak bridge, the temples of Sagaing and more, are jaw-dropping); to the station of Kalaw, where we make our way through plantations of oranges, tea and coffee; and to Inle Lake, where the Intha people have established an approach to fishing where they row with one leg to keep an arm free to catch the fish.
I return home with a kaleidoscope of images in my head along with my video camera. Yet of all these, it's the vision of the Myaing lodge that remains greatest in my mind. Incredible white geese slid past my lakeside bedroom window; egrets gathering in the shallows by banana trees as I watch under the patio's glulam laminated timber frames; big dragonflies hovered over pot plants. It was ineffably tranquil and for a brief moment, all appeared right with the world.