On your home turf, you're a food guru. You know exactly where to find the finest breakfast, and the very best coffee from an exquisite European bistro hot spot. As well as this, you know the ins and outs, where to sit, when to go, when to tip, how to order.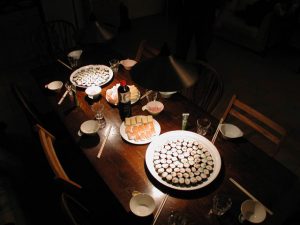 However none of that hard-earned regional understanding is helpful to you when you land in a foreign country for the very first time. And let's face it, the quality of your dining experience can make or break your trip. So how do you prevent the tourist traps, find a really great meal, and not freak out when paying the bill all while getting a genuine taste of the city you're in?
GO BEYOND THE CONCIERGE
The concierge does usually have a little knowledge of the city you are in, however, they may not know what is the best or what is popular at the current time. They generally have a list of a couple 'go-to' suggestions that they offer, and you could miss out on something seriously good if you only go off their advice. If you do need their suggestions, ask them specifically what you are after, such as a good restaurant in a regional area, or a place that chefs would eat at.
AVOID THOSE RESTAURANTS WITH SPRUIKERS
They can't be missed in popular tourist locations, the bubbly waiter who promises you the very best Peking duck, paella, pizza or pasta in the world. If they were really as good as they were saying, then they probably wouldn't need someone standing out the front of the restaurant trying to convince people to come in.
INTERVIEW YOUR WAITER
Great restaurants will happily work together and promote each other; with just a quick chat with a quality chef or manager, you will be able to discover a new luxury European restraunt, probably even one that they go to themselves. You'll also get a picture on great bars, eateries and before you know it, you're on your way to an excellent culinary experience!
SELECT YOUR TRAVEL DATES APPROPRIATELY
Having your heart set on eating a specific restaurant, only to find it not open when you get there, is a common mistake in travel, especially if you are travelling there during the holiday seasons, through local public holidays or big sporting events. Because guess what, those chefs you are travelling to specific restaurants for? They're probably taking some time off too.
Heavy rains in the monsoon season can ruin the charm of outdoor noodle markets and dining terraces throughout south-east Asia from July to October.
FIND OUT THE LINGO
Learn the basics of the local language so when you visit the world renowned restaurant and winery in Milan, Italy, you aren't franticly trying to piece together a range of hand gestures and motions to try and convey that you need the bathroom, or you are ready for the bill.
KNOW WHERE TO TIP (AND Just How Much).
You don't tip in Japan and China, it's optional in Switzerland and Sweden, but you need to in America. A service charge is included for you in France, Italy, Germany, Austria, Hong Kong, and Singapore, but you can round the costs up if you want to leave additional for your waiter.
In America, waiters normally anticipate to get tipped around a 15 to 25 percent of the overall bill to compensate for their low earnings. In London, a 12 1/2 per cent tip is added to your bill, but in some cases, this won't be written in the tips area of the bill in hope that you will tip again. If you are unsure, it is definitely OK to ask the waiting staff, they are more than likely aware that you aren't a local. If you don't want to ask, thanks to technology, there are a range of apps and websites you can quickly look up to find out what to do.
PLAN AHEAD.
The finer the restaurant you plan to dine at, the additional time you need to give yourself to book your place. For some of the finest eateries in the world, bookings open months in advance and sell out quite quickly.
EAT IN… YOUR HOTEL
It used to be that dining in your hotel would guarantee you  bland international food, but this is not the case anymore. Take a look at Heston Blumenthal's Supper by Heston at London's Mandarin Oriental Hyde Park or even the excellent yum cha at Above & Beyond at the Hotels Icon and Intercontinental in Hong Kong. Spectacular food is available at your doorstep, given you are staying in the hot spots of each city!
DON'T ASK YOUR TRAVEL GUIDE
Hotel tourist guides are great for sightseeing and transport. As for dining, they are probably going to suggest to you the closest cuisine to what you have at home. If you are from Australia, they will suggest to you restaurants that offer Modern Australian cuisine, just like you can get at one of the restaurants in the yarra valley.
GO LUXE.
The magnificent Grant Thatcher released the very first LUXE travel overview of Bangkok back in 2002, and remains a travel bible after selling out to Melbourne-based travel guide entrepreneur Simon Westcott. There are now 36 pocket-sized guides from Beijing to Barcelona; Miami to Milan; and Sri Lanka to Stockholm. They're precise, honest and humorous reviews of every country.
KNOW THE RULES.
It's not just what you eat; it's also how you eat it. When consuming with your hands in Morocco the Middle East or India, use only your right hand. In China, use the colour-coded serving chopsticks to serve your food, instead of your own. In Naples, a pizza must be eaten with your hands and slightly folded in at the middle. In America, double dipping is a criminal activity of the highest order.
WHAT TIME'S DINNER?
Not everybody eats dinner at 8pm, in Spain and South America; it's more like 10 or 11pm. You can roam around the streets of Madrid at 1am watching families with young children taking a leisurely after-dinner stroll. In many Arab countries, supper is generally eaten after 10pm, while Parisians and Romans tend to eat around 9pm. In Sweden, 6pm is considered completely appropriate, while in New York City, dining establishments have the tendency to have two dinner sittings, the first as early as 5.30pm.
TO MARKET, TO MARKET
The local fresh food market doesn't just offer your usual fruit and vegetable options, surrounding the market are usually some of the best coffee, bakeries, butcheries and cafes. The fresh food markets even offer tastings of beautiful wines such as ones you would find in a yarra valley vineyard.
AVOID THE TOURIST ATTRACTIONS
Traveller tourist attractions bring with them, an influx of traveller dining establishments. So to get a more localised experience, get off the beaten track, even if only by a block.
SOMETIMES IT'S GOOD TO QUEUE UP
There is a limit between wanting to eat where everyone is lining up to eat, and actually lining up yourself. Here's when it deserves the wait; for a Bloody Mary Sunday brunch at Prune in New York City, for lunch at Joel Robuchon's L'Atelier in Paris, for Dim Sum at Hong Kong's Michelin-starred Tim Ho Wan, and for Dumplings at Beijing's Shandong QiangMian Mantou Dian.
USE YOUR SIGHT
If you can't read the menu, it's not the end of the world. Take a walk around the restaurant and check out what other people are eating, if it looks good, ask the waiter what it is or just take a gamble and order it. Dinner is sorted.
WALK AROUND
Get up, get out and walk around, or if you don't know where to go, book a walking tour and work off lasts nights meal while you decide on tonight's. Some good walking tours are John Paul Fortney's strolling tour of Montmartre, including stops at three different regional dining establishments for entree, main course and dessert. Eating London's East End Tour, which tells you about the history of the East End from the Excellent Fire of London to Jack the Ripper, with stops at different restaurants from a Brick Lane curry to traditional fish and chips and a pint of ale.
In New York, Myra Alperson visits the famous hot food suburbs such as Queens, the Bronx and Brooklyn introducing eaters to off-the-beaten course restaurants, markets and coffee shops. In LA, it's worth doing the LA Conservancy's Historic Downtown strolling tour, if only to walk through the sensational 1917 Grand Central Market.
USE YOUR PHONE
There's a plethora of information available on the internet that will inevitably lead to many a late night of red wine and bleary eyes before you get overwhelmed and quit.
USE THE TWO BLOCK GUIDELINE
Every city has a hot food precinct, whether it's Potts Point in Sydney, Williamsburg in New York City, or the Objective District in San Francisco. Discover it, book a hotel neat it, and apply the 'two block rule'. Only look within a two block radius of your hotel and you will undoubtedly find great coffee, a winery, or even a ramen bar that you might end up frequenting.
FLY SOLO.
Choosing supper can be troublesome when you're travelling solo. That's why Japan developed sushi bars and Spain developed tapas bars, and why American restaurants have fantastic bars. Hot restaurants might be booked out months beforehand, however if you are only after a table for one, they may be able to accommodate you.